Embarking on a remarkable journey from the world of marketing and advertising, Lynn Power, CEO and founder of Masami, a clean premium haircare brand, and co-founder of Isle de Nature, a luxury bee-powered home fragrance, shares her inspiring story. After years in the industry, Lynn decided to take charge of her destiny, forging her own brand and partnering with James to launch Masami in 2018. Through refining formulas and extensive consumer testing, they navigated the complexities of e-commerce and successfully debuted during New York Fashion Week in 2020.
Sustainable Innovation: Forging a Unique Path
Lynn Power's secret to success? Sustainable innovation. By infusing Masami's products with weightless hydration from Japanese ocean botanicals, she effectively addresses a ubiquitous hair issue while differentiating her brand. Similarly, Isle de Nature's scented beeswax candles burn cleaner, showcasing her commitment to crafting distinctive home fragrances. Rooted in values, both brands give back to the earth, creating a lasting impact on conscious consumers.
Embracing Immersive Experiences
In the dynamic world of online shopping, Masami and Isle of Nature, thrive on experimentation. Embracing cutting-edge tools for UGC (user-generated content) and captivating live streaming sessions, they create an immersive shopping experience. From engaging newsletters to rewarding loyalty programs, their commitment knows no bounds.
Navigating the conversion conundrum
Lynn shares " Conversion is really difficult. And specially if you are a new brand." However, Lynn and her team don't back down from this challenge. By embrancing a data-driven approach, they refine SEO, enhance product photography and descriptions, and leverage customer reviews to build trust. With a focus on continuous improvement, they experiment, tweak, and adapt to ensure their websites effectively convert curious visitors into loyal customers.
Interactive AI Avatars and AI Enhanced Sensorial Experiences
Imagine this: as you browse through Masami's website, you're greeted by a friendly AI avatar—an ambassador of innovation. But wait, this is no ordinary chatbot, but a lifelike persona ready to understand your hair needs, offering personalized product recommendations like a true expert, captivating conscious consumers in an unprecedented manner. Lynn envisions this immersive AI tool revolutionizing online shopping by seamlessly blending the best of humanity and technology.
Furthermore, she recognizes the challenge of bridging the sensory gap between digital channels and offline customer experiences in the beauty and fragrance industries. After all, customers yearn to engage their senses, to smell, touch, and feel the products. Embracing the potential of AI, she firmly believes it could unlock innovative ways to recreate these sensorial elements online.
Embracing e-commerce trends: Sustainability and Personalization
Looking ahead to 2023, Lynn highlights two pivotal trends that will shape the industry's course. Firstly, personalization will be the key to success, as customers increasingly seek tailored shopping experiences that align with their preferences. Secondly, with a strong focus on sustainability, businesses must optimize delivery methods to minimize packaging waste and reduce their environmental impact. To thrive in this thriving e-commerce ecosystem, she advises embracing experimentation, networking with other founders, and forming partnerships with like-minded brands to foster organic business growth. By blending innovation, collaboration, and customer-centric approaches, e-commerce leaders can navigate the challenges and unlock remarkable success in the digital realm.
Throughout our insightful conversation with Lynn Power, CEO and founder of Masami and co-founder of Isle of Nature, we gained valuable insights into the challenges faced by e-commerce leaders in the competitive world of online retail. Lynn's journey to success was paved with determination, sustainable innovation, and a commitment to providing immersive shopping experiences. As we analyze her experiences, we uncover how AI can play a pivotal role in optimizing conversion rates and enhance the overall e-commerce performance: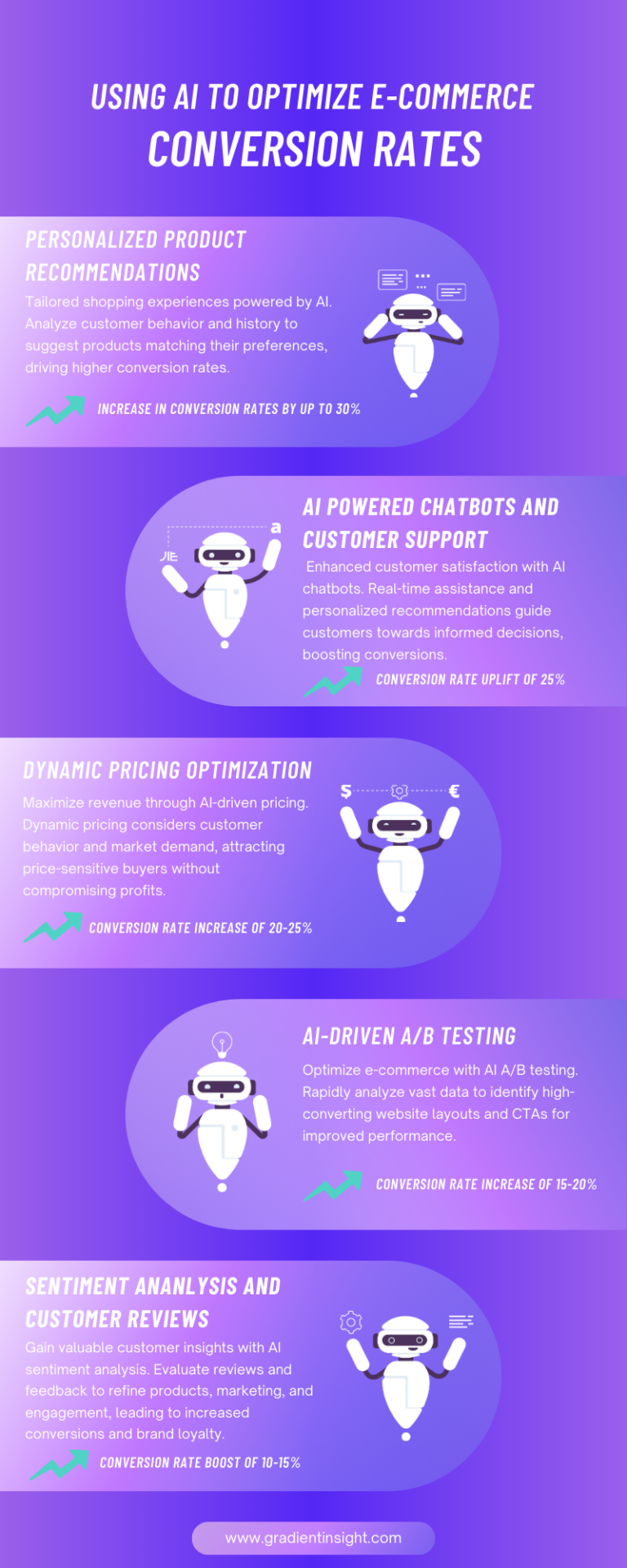 If you're interested in learning more about our services or how we can help you optimise your e-commerce store, we offer a free consultation. Don't hesitate to contact us.